If you are having your event in Colorado and you would like a little Acoustic Rock in the mix and you love the sweet 3 -4 part vocal harmonies with acoustic guitars ~ Our 5 piece Blu Rose Acoustic Rock Band is for you! Add our keyboard player for a bigger sound!
Using 4 core band members from Deja Blu Variety Dance band, we add Mark Todd (formally from The SOHO Band) on 12 String acoustic guitar. The sound is sweet 3 and 4 part vocal harmonies mixed with acoustic guitars and piano.
Blu Rose is a perfect for backyard parties, outdoor weddings, summer festivals or any event that you want that COLORADO SOUND!
Drawing from Classic Rock, Country, Americana and the very best from the acoustic rock bands from the 70's, 80's and 90's -and today's top artists, The Blu Rose Band is perfect for indoor parties as well!
Artists we cover:
| | | |
| --- | --- | --- |
| The Eagles | Tim McGraw | Bonnie Raitt |
| Lady Antebellum | Rascal Flatts | Zac Brown Band |
| John Denver | James Taylor | Loggins and Messina |
| Fleetwood Mac | Melissa Etheridge | Doobie Brothers |
| The Lumineers | Crosby, Stills, Nash | Uncle Kracker |
| Uncle Kracker | John Mayer | Jason Mraz |
| John Mellencamp | Bare Naked Ladies | Alan Jackson |
… and more! The band can be configured to a 6 piece with Billy Ray Stephens on keyboards for a bigger sound.
Blu Rose is:
Liz Valles – Lead female vocals/percussion
Mark Todd – Lead male vocals/12 string acoustic guitar
Mark Messinger – Drums, lead and backup vocals
Jeff Engler – Guitar, lead and backup vocals
Byron Dudrey – Bass guitar, lead and backup vocals
Optional ~ Add Billy Ray Stephens on keyboards for a bigger sound!
Read all about us
Video clips:
Gimme Some Lovin
Spencer Davis
Bring Me Some Water
Melissa Etheridge
Love The One You're With
Stephen Stills
Your Momma Don't Dance
Loggin and Messina
Don't see your favorite song? Just ask- we may already know it.
Check our out new 2016/2017 audio clips! –
Just click to hear a short MP3 clip
Hear the FUN! – 2015 wedding at Station 26 – Jason and Sierra
Footloose – Kenny Logins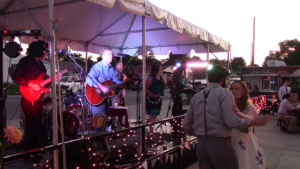 Love the One You're With – Stephen Stills
Ho Hey – The Lumineers
Heat Wave – Linda Rondstat
Dancing Away with My Heart – Lady Antebellum
Summer Concert – Castle Rock 2016
Landslide- Fleetwood Mac
Rhiannon – Fleetwood Mac
Colder Weather- Zac Brown Band
Amy- Pure Prairie League
Follow Me- Uncle Kracker
Crazy Love – Poco
Seven Bridges Road – The Eagles
If I Had a Million Dollars- Bare Naked Ladies
Can't Help Falling in Love with You- Elvis
What they are saying:
"Thank you So much for a great evening. You all sounded great and we very much appreciated how flexible you were throughout the night. We had nothing but great reviews. Thanks again. We will definitely be recommending you to friends for future events!"
Jackie and Andy – 2017 Private Party
"If you have the option of adding the guitarist, Mark Todd, DO IT! There were multiple times during the night where I thought John Denver was ACTUALLY playing at my wedding. He was AMAZING."
Brittany and Michael – 2015 Wedding- Rock Bottom Ranch, Basalt , Co.
"The Blu Rose Band was amazing! The band played a beautiful version of "You are the Best Thing" by Ray LaMontagne, as a duet, especially for us. From that moment until the last song they kept folks dancing, singing along, and enjoying life. My favorite moment was probably when they sang Wagon Wheel and everyone at the wedding got in a big circle and swayed together. It was so natural and beautiful and moving. Liz, band manager/lead singer, is incredibly responsive and on the ball as well, so planning with them was very easy and painless."
Sierra and Jason – 2015 Wedding – Station 26 Brewery, Denver, Co.
"Contact us today to inquire about the packages and many options we offer
REMEMBER – NOTHING COMPARES TO LIVE MUSIC!