It's engagement season and I hope you have your wedding band booked for the reception. The best wedding dance bands will always book up early. Assuming you have this covered… what about the ceremony music?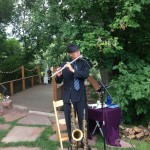 Some wedding dance bands can cover your ceremony as well. It's a great idea and can save you hundreds of dollars by using the musicians in band to play your ceremony.
Before you ask your wedding band if they can cover your ceremony music, do your homework and ask the right questions. There is a bit more involved than you may think.
What kind of instruments does your wedding band use? Do you want vocals in your ceremony?
This is the most important question. Not all wedding dance bands are classical trained or able to provide a string trio. And while the wedding band may have a guitar player in the band, she or he most likely plays electric guitar and not solo acoustic or classical.
Acoustic guitar is a completely different style than classical or jazz. Our guitar player is an amazing electric guitar player but not experienced with solo instrumentals on an acoustic guitar.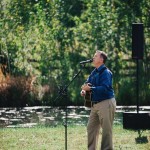 We work with Mark Todd, who has played many of our ceremonies on acoustic 12 string guitar.  He can provide vocals as well. We can also offer our keyboard player solo or duo with Dave Camp on flute,  which can be a beautiful option. Dave played a wedding , solo on flute, in Santa Fe last year. You can see a short clip here – Elton John- Your Song.
Where is your ceremony taking place?
If your wedding band is setting up at the reception site that is miles away from the ceremony site, it may be a challenge for the band with load in, set up and sound check if we have to cover two different sites.
If your ceremony and reception are in the same venue – great! Make sure you let the venue know that you would like live music. Ask if they have had live musicians perform at their wedding venue before. You will want to make sure that there is room for the musicians to set up and that there are electrical outlets near where you want the musicians to sit.
If your ceremony is outside, you may need to provide a canopy to protect the musicians and their instruments from the elements. Sun, rain and wind can damage expensive instruments and harm the musicians themselves. Always ask if this will be needed and if so, who is expected to provide.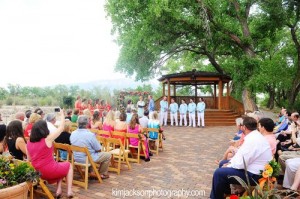 Are you going to want a mic and amplification for your vows?
Some couples who hire musicians for the ceremony assume that they will supply microphones for the officiant and the couple to exchange vows. That may or may not be included. Be sure you ask. Things to consider are – where you ask the musicians to sit, where you plan on standing, where the guests will be seated and where the electricity is , are all important questions that will need to be addressed.
Using the musicians from your wedding band is a great idea and is cost effective. Depending on the number of musicians, set up logistics and the time needed, you can expect to pay $100.00-$250.00 per musician.
Remember – Nothing beats Live Music!
Call or email today for a quote