A Great Band Makes a Great Wedding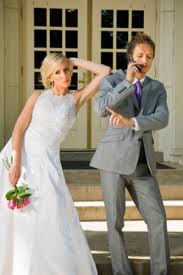 #1 -Judging the quality of the talent
Live Performances- By far, the best way to judge the talent and energy of a band is to see them live. Talk to them during a break. Ask the right questions: Are these the band members that will show up at YOUR wedding? Do these members perform regularly together? Unfortunately, most pro wedding dance bands do not perform many live pubic performances.
So – the next best thing?
Live Video recordings – I stress LIVE video with LIVE audio- no editing tricks, pro-tools or studio recorded tracks over video. It's sad, but there bands who spend thousands of dollars for an MTV quality video. Adding studio recorded/edited audio tracks over the live video may make a nice video to watch but, does the band really sound like this LIVE and are these the members who will show up at your wedding? If you suspect this, ask for more sample videos.
#2 – Reviews and photos of previous weddings
Reviews – Nothing speaks louder than great 5 star reviews and lots of them. Happy dancing guests = happy bride and groom. Spend time reading the reviews. Make sure the reviews are current and that if you ask, they can provide referrals.
Photos – We have been so fortunate to have more than a few professional photographers agree to let us post some of their favorite photos of the night on our web site. Do you see a glowing bride? Are guests having a great time? Do you see hands in the air, people dancing and singing along?? Imagine this band at YOUR wedding. Imagine your guests coming up to you and saying "This band ROCKS!" – "where did you find them"???
#3 – Professional wedding dance bands- why are some bands so expensive?
One of the most common comments I hear is "I've contacted 5 different bands and the price ranges are all over the board!" Why??
A professional wedding dance band has experience playing weddings and knows what to expect. Some bands prefer to play bars and clubs and will book the occasional wedding. You will be able to tell these types of bands by merely looking at their web site. Take a look at the schedule and see where they typically perform. The cost for these kinds of bands will be considerably lower.
Part of my job is to ensure that the entire reception goes according to plan, not just that we sound great and play good music. I will work with other vendors like your photographer and videographer, making sure they know when we are playing the first dance, when you are cutting the cake or planning a special part of the night that involves the band and music, I will be there to facilitate and coordinate with other vendors.
And if things get off track ~ no worries! I am flexible and have seen it all. I can consult with the other vendors and work around dinner being off schedule by 30 minutes. for example or the photographer who has to leave now and the cake has not been cut.
Pro bands can play for your cocktail, dinner and reception and many can cover the ceremony.
It's your special night~ hire the right band not, the cheapest.
#4 – The playlist: you like Classic Rock and he likes Top 40
We play many destination weddings where the couple cannot come see the band live. I always ask what is the most important thing that they are looking for in a band? Most often, the answer is ~ I want my guests to dance all night long, have fun and enjoy the band.
Hiring a band that plays a variety of everything AND plays it well is the answer! – I've spoken to many brides who will review a playlist and think there is not enough 80′s, top 40… for example, you name it. But one thing to keep in mind is this- most receptions are 3 hours and that adds up to around 30-35 songs.
Our play list has over 200 songs on it and I always ask that you please review it. Let me know what songs you want to hear and what songs you would prefer we not play.
I am more than happy to review the song list with you. I know what gets people up on the dance floor. We can include your favorites AND songs that are guaranteed to fill the dance floor. We have something for every age, taste and genre of music.
Don't see your favorite song? Ask! Many wedding bands are used to learning one or two special requests that are not on their set playlist. AND, if they can't cover it live, putting the original song on the IPod during the breaks is always a sure fire way to keep the energy going all night!
Another helpful hint? Take the playlist and invite your family and friends to pick out their favorite tunes and those that they would prefer we not play! Guaranteed to have your guests up dancing all night!
#5 – You've found your band ~ now what?
With today's technology, meeting face to face is not as hard as it used to be. SKYPE and Face Time is very popular for destination weddings or for couples with a very busy schedule. This year, I "met" with a bride and her fiancé and they live in Australia! I was able to answer all their questions and discuss what they were looking for. At the end of the meeting, she was elated and ready to book Deja Blu!
Deja Blu is one of the most popular wedding dance bands in Colorado. Bands that are in high demand will book up 6-9 months in advance. If you have your heart set on live music and have found the band you love- please don't wait. I know it takes a lot of time and energy looking at bands and deciding. If you have found your band ~ make the call and check availability as soon as you can.
Saturdays in the summer, fall and December are dates that fill up fast. Don't be disappointed.
Finding the right band can be a daunting task, I know. I can help to make it easier for you. Once you have made the decision that your band is Deja Blu and you have contracted with us, relax! You're in good hands. 😎