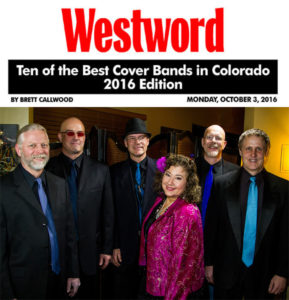 "These cats play it all. They refer to themselves as a "variety dance band", and they are not kidding. We're talking about a band that can go from Elvis Presley to Daft Punk in the blink of an eye. They say, "With fiery lead guitar solos, a solid rhythm section and searing sax solos- the musicians are some of the best in the state.
Add to this recipe five vocalists with harmonies that are especially tight and powerful- you get one of the best dance bands in Colorado"
Waking up to find out that The Deja Blu Variety Dance Band was voted one of the very best cover bands in Colorado by Westword Magazine was mind blowing. There are some very good wedding dance bands out there, so this was quite an honor!
We've certainly paid our dues over the years playing weddings, corporate events, private parties and summer festivals all over Colorado including Vail, Aspen, Beaver Creek, Steamboat Springs, Keystone and as far as Santa Fe, New Mexico.
Our song list has over 240 songs, which makes us a choice for couples looking for an amazing wedding dance band. With two out front lead singers (De Thomas and Liz Valles) , 4 other band members who sing lead and backup vocals, and a smoking hot band, we know how to pack a dance floor all night long.
Our reviews say it all – Easy to work with , fun and talented!
REMEMBER – NOTHING BEATS LIVE MUSIC! 
Our 2017 Summer/Fall season is booking up fast ~ Contact us today to see if your date is available.