Erin and Brett's Wedding Reception – The Cable Center, Denver, Colorado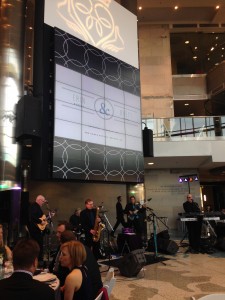 "Deja Blu TOTALLY ROCKS!!!! It's a truly special occasion when three generations can be together in one room and have so much fun. The dance floor was packed all night!! Liz was a delight to work with throughout the process. They learned special requests, sounded awesome on all the hits, led the crowd, and everyone had a blast!" – Erin & Brett- Wedding Cable Center, Denver 2015

When Erin and Brett hired Deja Blu to be the wedding band for their March 2015 wedding in Denver, Colorado, I was delighted. When I found out the wedding venue would be The Cable Center, I was thrilled and speechless.
The Cable Center is one of the most popular wedding reception sites in Denver. Located in South Denver,  it is by far one of the most jaw dropping wedding reception venues on the planet! The stage and dance floor is directly beneath a high tech video tower two stories high comprised of 32 HD monitors.
We weren't just a live wedding band from Denver, Colorado that night – we were MTV musicians playing and filming a gorgeous wedding  with a packed dance floor. Our video "Uptown Funk" by Bruno Mars/Mark Ronson was recorded that night. Take a look!
I loved working with Erin, she was so organized! Being an accountant, she came to the venue walk through with assignments and notes for all the wedding vendors. She did a great job planning and coordinating a wedding reception for over 200 guests.
How did she do it? She hired the best wedding vendors in Denver. I worked side by side with some of the best wedding professionals in the area. We were all introduced months before and we continued to communicate via email. The wedding day came and everything went so smoothly.
By hiring a professional wedding vendor, like the Deja Blu Dance Band, you can take rest assured knowing you are in good hands. I've been working with brides and their families for over 10 years. I have seen almost everything you can imagine and because of my experience, I can offer up valuable suggestions for how the timeline should flow, introducing the bridal party, songs for the father/daughter dance,  mother/son dance and much, much more.
If you're planning a wedding reception and looking for wedding bands in Denver, Colorado consider the Deja Blu Band.
Drop me a line for pricing and availability via our inquiry form today!
Liz Valles, Manager
Deja Blu Band
https://dejabluband.com
Event Coordinator- The Cable Center- Morgan Hernquist
Catering – Catering by Design – Jeff Fickling