"Deja Blu was phenomenal to work with! They did an unbelievable job!! We planned most of our Colorado wedding from Australia, and Liz and the gang were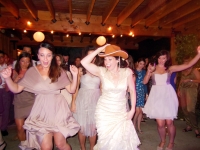 super responsive and helpful throughout the whole process. They were willing to learn some new songs for us and the dance floor was packed all night long. Deja Blu made our night truly spectacular.  We cannot recommend Deja Blu highly enough!! THANK YOU!!!" – Julie and Daniel – 2014 Lyons Farmette- Lyons, CO.
Julie and Daniel were looking for LIVE wedding bands in Denver for their wedding reception. There was one small challenge – they lived in Australia! Julie's family lived in Denver, Colorado and she wanted to come back to Colorado to have her wedding reception. Like a lot of couple's who have hired the Deja Blu Variety Dance Band they found our website while searching Google.
Our first meeting was via SKYPE. It was early morning in Australia and mid afternoon for me. They decided on the Lyons Farmette, which besides being an incredible place to have a wedding reception, is an actual working farm! That's right, sheep, horses, chickens… all along a beautiful creek.
They wanted their wedding reception to be fun and memorable, with a LOT of dancing – words I love to hear! Daniel's Australian mates had come a long way to celebrate. Julie had friends from all over the world since she had traveled so much. It had to be the very best wedding reception -ever, she said to me. And we came through with flying colors!
We had a blast choosing songs for the "American vs. Aussie" Dance Off- The pictures say it all! We had a packed dance floor and it's true! Aussies know how to party! From our playlist "Down Under"- by Men at Work  was perfect and "Wagon Wheel" by Old Crow Medicine Show brought out the cowboy hats and some line dancing! The Aussies won hands down, IMHO! 🙂
Thanks Julie and Daniel for the kind words. Congratulations on your wedding.  It was a pleasure to provide the music and entertainment for your wedding reception.
Photography credit to the wonderfully talented (and I highly recommended) Carrie Swails. Thank you for these great photos Carrie! http://carrieswailsphotography.com.