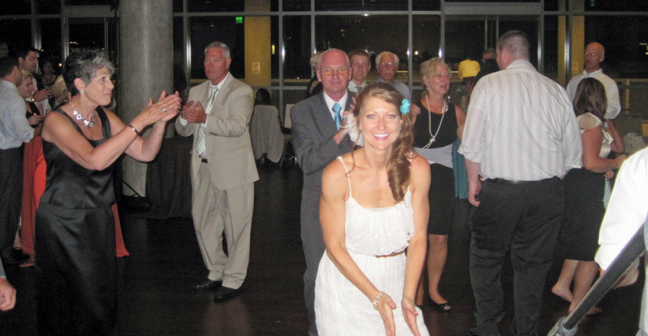 The "wedding season" is in full swing here in Colorado and like many popular wedding bands in Denver the DejaBlu Band calendar is packed with wedding receptions every weekend from May through September.
I recently had a conversation with a bride. She seemed shy about bringing up the topic of tipping the band, but I am glad she did! I thought the topic would make a great blog for this week!
As it is with most jobs in the service industry, the practice of tipping is very common in the wedding industry. While tips are certainly appreciated, they are not, in any way, expected. It's perfectly OK to ask your wedding band manager about tipping before the actual wedding reception.
Here are some of my own personal thoughts on tipping your wedding band, as well as alternatives to cash tipping.
Cash Tips
If you feel like the band went above and beyond your expectations, cash tips are very much appreciated by the band members! It is a great way to "show the love." Usually, 10% – 15% of the contracted price is the norm, or $50.00-$100.00/per musician. It's a very nice gesture of your appreciation, especially if you and the guests at your wedding reception loved the band and screamed for multiple encores after our contracted end time.
The best time to tip your band is at the end of the night and I always like to receive cash tips in an envelope. It makes it convenient for me to put it away until we are all leaving the venue. If you can, it's a great idea to divide the cash so that it is easy to hand out to each band member at the end of the night. For example, five $20.00-$50.00 bills for each band member.
No Cash on Hand
Tell the band how much you loved their performance. I totally understand that for many couples hiring a live wedding dance band can be a very important decision and a big part of the budget. And while the band may have just rocked your world, maybe and extra $100.00- $250.00 is a bit hard to come by after all is said and done.
What else can you do to show your appreciation? I absolutely love it when friends, family and the couple come up to us after the reception to personally tell us how much they loved our band and that the guests all felt that the wedding was the best they have ever been to!
We just played for a very large wedding reception this weekend (over 230 guests) and when we are playing our hearts out and the dance floor is packed there is a kind of "electricity" between us and the guests. Last night, we had people at the edge of the stage singing along, smiling and screaming out to us after solos.
That is a magic moment for us as live working musicians, so when the stage is "rushed" after the lights are turned on, I can't tell you how much those compliments mean to us. It keeps us going and we feed off of your energy!
Consider Writing a Review
Deja Blu is Wedding Wire's #1 rated wedding dance band in the Regional Rocky Mountain States! We are so blessed that couples have taken the time to write 5-star reviews and glowing comments that are submitted to The Knot, Wedding Wire, Gig Salad and Gig Masters and of course, our own web site.
These reviews and comments mean the world to us! We specialize in destination weddings and while couples may love our live video and live audio demos, it's the reviews from brides, grooms and parents that truly show others looking for a great wedding band for their wedding reception just they'll get when they hire Deja Blu!
It's easy at Wedding Wire. Answer 5 questions and leave a short comment – it takes less than 5 minutes! It's another great way to say "THANK YOU DEJA BLU!"
Liz Valles
Deja Blu Band, Manager
(303) 517-9852
Inquiries, Availability, Pricing… click here