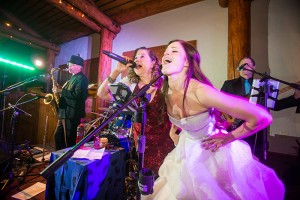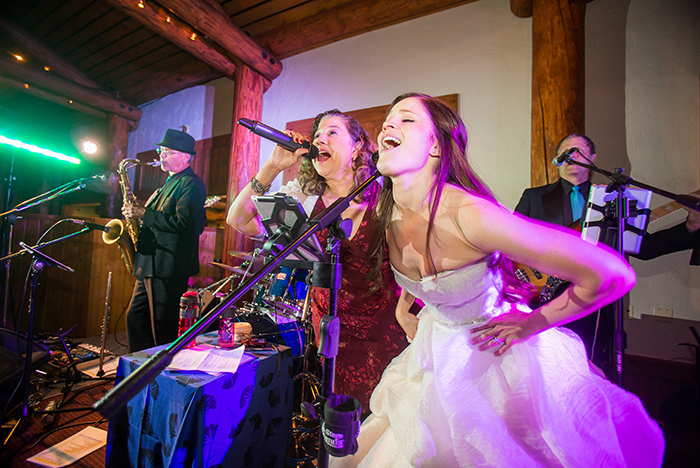 The Deja Blu Band has been together performing at weddings in the Denver, Colorado area for many, many years. We're one of the most popular wedding bands in Denver, and we play throughout Colorado – from Boulder, Vail, Aspen, Beaver Creek, Estes Park, Steamboat Springs and Telluride.
One of the things I love most about the band is that all of the members of the band are good friends, VERY talented musicians, and we really play live music well together. I might be the manager, but I think of them more as family – like my brothers!
There's a "vibe" between the band members and with years of experience performing live music in front of people we also have learned how to "read the crowd."
It's hard to describe with words, but it really makes a difference (and is the #1 reason "throw-together-bands" are not a good choice for wedding receptions).
People who hire us to perform at their wedding reception, private function, or other special events almost always comment on how impressed they are with the band and the music. Again, it's a bit hard to put into words, but if you've ever been to a wedding reception with live music, and it ROCKED, you know what I'm talking about.
The band's philosophy has always been that it's about performing for YOU and YOUR guests – and making sure the music is appropriate, everyone is having a great time, and of course ALWAYS getting people up and dancing on the dance floor.
Because in the end, these are the things that create a great wedding reception, one that becomes a MEMORABLE wedding reception that you and your wedding guests will talk about for years to come.
So if you're planning your wedding reception and looking for live wedding bands in Denver (or Boulder, Vail, Aspen, Beaver Creek, Estes Park, Steamboat Springs and Telluride), drop me a line using this online contact form.
I'd love to hear more about your wedding, what kind of music you like and want at your wedding reception, what you're thinking of doing, where and when.
Remember, "Nothing compares to live music!"
Myself, and the members of the Deja Blu Band look forward to the opportunity work for you!
Liz Valles