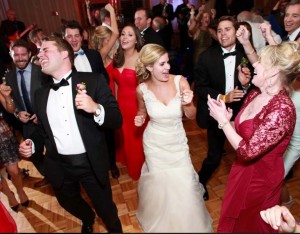 "We are a family that celebrates life and we do it intensely. Deja Blu was an excellent choice to provide the musical entertainment. The dance floor was full from beginning to end and it was a rolling mass of people, each with true joy expressed. The song list from which we picked was extensive and because of that, every age demographic had songs with which they could sing along. I would hire them again in a heartbeat."
Walter – Father of the Bride – at The Lodge in Vail, Colorado – Summer 2015
Deja Blu has played everywhere this past year, but I'd have to say that Vail is my favorite mountain resort area for a destination wedding in Colorado. For Katie and Randy's wedding reception, at The Lodge in Vail, they had family and friends from all over the country.
Since music is such a big part of their family, Katie and her Dad, Walter, wanted the very best wedding band in Colorado. Walter saw our band listed on The Knot and Wedding Wire and called me for a free consultation.
Walter was a joy to work with. He explained that he wanted a fun variety dance band that would PACK THE DANCE FLOOR and played a wide variety of music drawing from all genres and several decades of music.  Needless to say, our play list with over 240 songs on it was a hit with close to 200 guests.
Walter, Katie and her sisters hand-picked the songs we were to play and we kept a copy of our entire playlist up on stage so their guests could make requests (that's the type of thing we do and why people LOVE working with us!).
Katie opted for our 6 piece band with Dave Camp on sax and flute. Katie was living in Germany at the time. Walter was a PRO at planning a wedding since Katie was #4 of 5 daughters that he had married off! Walter and Katie planned the entire wedding themselves.
Walter told me "I know a good wedding band when I see and hear one" and Deja Blu gave them everything they wanted – music, entertainment and a jam-packed dance floor all night. We had conga lines going in the first set and limbo contests by the end of the night. The dance floor was packed from the first song until they turned off the lights – literally turned off the lights!
It got even better that night after I got to meet Cara Leonard, a Wedding Photographer from Vail, Colorado.  I have already recommended her to another wedding we are playing next year in Vail. She really knows how to capture the moment.  I LOVED her photos! Big props to Cara for so graciously agreeing to have us use some of my favorite shots here.
If you're getting married in Vail, Colorado and looking for a fun, high-energy, YOU-AND-YOUR-GUESTS-WILL-DANCE-ALL-NIGHT wedding reception experience, because NOTHING compares to live music, call me at (303) 517-9852 or drop me a line using our online contact form. I'd love to talk with you!
Liz Valles, Manager
Deja Blu Band
Venue: The Lodge, Vail, Colorado
Event Manager: Abby Johnson
Photographer: Cara Leonard Photography