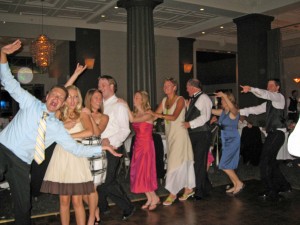 "The Deja Blu Dance Band is hands down one of the best decisions we made regarding our wedding day! Liz knows how to choose songs and make the evening flow to keep the dance party going! Throughout the whole planning process she worked with my fiance and I to come up with the perfect song list for us and gave us her professional insight. I would absolutely recommend this wedding band to any future bride and groom. They will blow you away with their talents!"
Kurt and Lindsay- 2015 The Oxford Hotel- Denver, CO.
I loved getting to know Kurt and Lindsay. One of the first things we worked on was song selection for their big night.  We have over 225 songs on our current play list and narrowing it down was fun! I met them for coffee and then had a few follow up emails and phone calls. In the end, we put together a play list for the night of their wedding reception that had the dance floor packed and an impromptu conga at the end of the night that was a hoot!
When working with wedding dance bands, here are some helpful tips for picking the music that will make your night truly spectacular!
Number of songs the band can play
Realistically, after we take into account the toasts, cake cutting, first dances etc. , you are most likely looking at only 30-35 songs for a 3 hour reception. This is good to keep this in mind when planning.
Tempo- slow vs. fast dance music- it does matter
I will ask couples to pick their favorite songs from our playlist. I then break the list down into tempos- slow and faster. I tend to put about 3 slower tempo songs in the first set and then perhaps 1 or 2 per set after that, more if requested. I am always reading the dance floor. Sometimes, I can just tell when I see folks who do not want anything slow. They want to tear up the dance floor and our high energy songs are just the ticket. We take requests which guarantees a fun night!
Playing to an all ages guest list
Most wedding receptions we have played include a guest list with a good mix of ages. I like to  build the set list with that in mind. I want the baby boomers and grandparents to dance and enjoy the night as well as your friends. I suggest that we put more of the timeless, classics into the set list during the beginning of the wedding reception. Of course, there are Top 40 songs that get EVERYONE out on the dance floor. "Happy" by Pharrell Williams is one of them. Works like a charm!
Think of me as the wedding dance band cook-
I take the temperature of the dance floor all night long. I like to keep thing hot!
Playing to the crowd comes from years of experience. If the couple has given me a list of requested songs that include Top 40 songs/popular current hits such as  "Love You Madly", by CAKE , "Get Lucky" by Daft Punk or "Uptown Funk" by Bruno Mars- those will most likely wind up in the 2nd or 3rd set so you, your friends and your funky bunch can let your hair down and get crazy!
Mix it up- genre of music and lead singers- variety is the spice of life!
My goal is to give our clients a packed dance floor and that means giving you a good selection of music that you like with a sprinkling of songs I know can get folks out of their chairs and onto the dance floor. With 5 vocalists in the band and a male and female lead singer, I like to mix it up. I can assure you, your guests will love it when they hear female and male singers and great harmonies. I love watching folks on the dance floor trying to figure out which one of us is taking the lead vocals on the song they know and love.
Your wedding reception is one of the most important days of your life, I know.  I would love to hear your ideas for how you envision the night's live music. I will offer suggestions and helpful advice. Let me help you to plan a night where your guests ask you – "Where did you find this amazing dance band?", "Awesome band", "best wedding reception we have been to – ever!"
But, please don't take my word for it. Our previous brides, grooms and their families have sent us over 100 5-star reviews. I truly believe that hearing what other couples have said about their night says it all. The Party starts with the band!
Our summer/fall calendar is starting to book up quickly. If you would like to inquire about your date- please drop me a line using our simply inquiry form, call or text me!
Up next – Stay tuned for my next blog! Suggestions on music for
The Grand Entrance
First Dance- Father/Daughter- Mother/Son Dances
Remember- Nothing Compares to Live Music!
Liz Valles –
Band Manager and Lead Singer
Interested in booking the band? check our our inquiry form