"We are so happy we found the Deja Blu Variety Dance Band for our wedding. It was absolutely perfect! They are a great party band. They are a great wedding dance band to work with, very organized and super fun. Their sound and musical performance was amazing" – Sadie & Aron – 2014 Hyatt Tamaya, Santa Fe, NM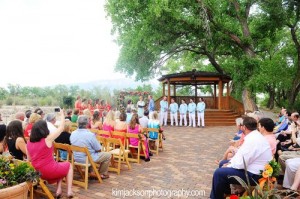 Half way between Santa Fe and Albuquerque, New Mexico is The Hyatt Tamaya Resort – by far my very favorite wedding venue!  Located on the banks of the Rio Grande, overlooking the Sandia Mountains, the Cottonwood Pavilion is simply breathe taking.
Sadie and Arron opted for the full day package of live music. Dave Camp played flute for the ceremony. The song selection was very contemporary and eclectic. The "Theme from Friends"- yes, the TV show, was the song they picked for the bridal party. It was a very fun and unique ceremony.
Dave plays clarinet and we have played The Hora for Jewish Weddings before, but never like this one! The highlight of the evening was Hava Nagila. It was one of the longest versions we have ever done. Both parents chose to join in and it was crazy fun!
For the father / daughter dance – Sadie chose "Yakety Yak" by the Coasters – a great choice! It was so much fun to watch Sadie dance with her dad. You knew there was a story there!
The night ended with "Don't Stop Believing"- often requested as the end of night song. I love to gather everyone in a circle around the couple, singing and dancing along; we all wished Sadie and Aron the very best and sent them off in style.
We would like to thank Albuquerque Photographer Kim Jackson for use of her lovely photos on this blog. She captured the beauty and fun of Sadie and Aron's wedding day! I included a few taken by me from the stage. I always have the bird's eye view of the packed dance floor!
Deja Blu specializes in destination weddings. My goal is to make planning the reception stress free for you! I can guarantee a night of great music, a packed dance floor with non-stop dancing and a wedding reception that your guests will remember for years to come.
But don't take my word on it – check out our 5-star reviews from over 100 weddings and events.
We have a few select dates open for the summer and fall of 2015 and we are booking into 2016. If you would like to see if your date is available, please email me or use our inquiry form is short and easy to use.
Remember- Nothing Compares to Live Music!
Liz Valles
Band Manager and Lead Singer
Interested in booking the band? Drop us a line using this inquiry form.
Photographer: Kim Jackson www.kimjacksonphotography.com
Venue Coordinator: Katie Stirrett www.tamaya.hyatt.com