"The Deja Blu Wedding Dance Band is hands down one of the best decisions we made regarding our wedding day! Liz and the whole crew are amazing musicians and they are so great to work with!  I would absolutely recommend this band to any future bride and groom. You will not be sorry and they will blow you away with their talents!"
Kurt and Lindsay- 2015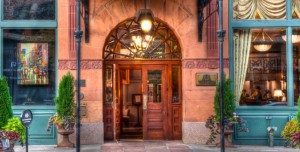 I have played wedding receptions at many amazing historic Colorado wedding venues but none older than The Oxford Hotel in Denver, Colorado. Built in 1891, it was like taking a step back in time. The wedding reception was in The Sage Room and I just was in awe knowing that Baby Doe and Horace Tabor were in this same room over 100 years ago!
Kurt and Lindsay were planning a January 2015 wedding. They picked a great Colorado wedding venue. The next  important decision was to hire a fun and talented wedding dance band. They came out to hear our dance band at Nissis in January of 2014 and booked the band shortly after. They were smart and knew that many of the best wedding dance bands in Colorado will book up a full year in advance.
I truly enjoyed getting to know Lindsay and Kurt. We met for coffee to discuss the details of the live music timeline. I was SO impressed. She had organized everything into a wedding planning binder with tabs for all the wedding vendors. Both Kurt and Lindsay are pharmacists and they were used to being organized!
I was so happy to once again work with Denver photographer Chris Humphreys. I LOVE his work and he has generously provided the photos here. Adding to the A-Team of wedding vendors was Wedding Planner Adrienne Gardner from The Gardner Effect. Adrienne was a pleasure to work with and was on top of things from start to finish. It's such a joy to work with other wedding vendors like these two who are such pros!
The wedding guests hailed from Texas and boy did they love to dance and get down! Lindsay's favorite band is The Zac Brown Band and she asked us if could learn "What Ever It Is". We did and now it is part of our playlist! The night ended with conga line and Hi-Fives.
The Deja Blu Dance Band is one of Colorado's most requested wedding dance bands. Our summer 2015 is nearly full.  Contact us today to check if your date is available.
Photographer -Chris Humphreys- www.chrishumphreys.com
Wedding Planner- Adrienne Gardner –www.gardnereffect.com
Venue Coordinator – Stephanie Traylor –www.theoxfordhotel.com