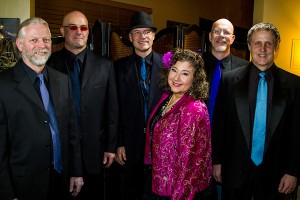 I've been around long enough to know several of the common mistakes brides and grooms make when planning their wedding reception and hiring a LIVE wedding band.
If you're looking for a live wedding band in Denver Colorado, certainly we'd be honored if you considered hiring the Deja Blu Band, after all, we're one of the most popular wedding bands in Denver!
But whatever you choose to do, today I want to alert couples about the "pick-up" wedding band. Some band managers will tell you that they will "customize" the band to fit exactly what you are looking for,  but buyer beware!
These types of wedding bands will usually have a manager/musician who is a core member of the band. He keeps a long list of various musicians to choose from when "customizing" a band. He will have his "A List" wedding band, his"B List" wedding band and so forth.
He will call around to see who is available to play on your date. The end result can be a live wedding band with musicians that don't normally play together or MAY NEVER have played together before.
A "pick-up band" may actually have talented musicians, but there is a difference in the "vibe" on stage between musicians who normally play together and those that don't.
Wedding bands that normally play with the same musicians will exude a spark of energy on stage that you will see and hear immediately.  The banter, the fun and the comradery on stage is apparent. That energy is infectious and will spill out onto the dance floor and to all of your guests.
Hire a "pick-up" band and you risk having a stage filled with musicians reading charts and trying to get a feel of the musicians they are working with for the first time. Who has time to smile, laugh and engage your guests when they are worried about how they are going to get through the night.
How do you know the band you are looking at is a "pick-up" wedding band?
Here are some tips:
#1 – Look at their website. Do the pictures of the band all have the same members in them?
#2 – Take the time to read the "fine print" at the band's website. Are there bios on each of the members? Does it talk about how long the band has played together? If a website doesn't have this type of information it could be a warning sign!
#3 – Next, look at pictures from recent weddings where the band has performed. Are they at local wedding reception sites you have heard of or know about (or maybe you are getting married at one of them). If they have videos, take a look at the band members. Where are they on stage, what instruments they are playing, and check out how they all "fit together." Are the same people in all the videos? Most of the time you can learn a lot from a band's website, if you take the time to look around. If you don't see all of the same people it could be a warning sign.
#4 – Make an inquiry, talk to the band manager ON THE PHONE (this is VERY important), and be sure to ask these questions (along with any others you may have about the band):
"Tell me a about the band, how long you've been together, and tell me about your individual band members?"
"Will the people I see on your website be the ones who play at my wedding reception?"
"How long have you played together?"
"How often do you play together?"
"When was the last time you played together?"
Armed with this information, and the answers to these questions, you're likely to avoid the potential disaster too many brides and grooms have experienced after hiring a "pick-up" wedding band.
If you're looking for a live wedding band for your wedding reception in the Denver, Colorado area, drop us a line. I'd be glad to tell you more about the Deja Blu Band and provide you with pricing based on your particular needs.
Drop me a line using our online inquiry form.
I'll follow-up with you promptly.
Liz Valles, Manager
Deja Blu Band